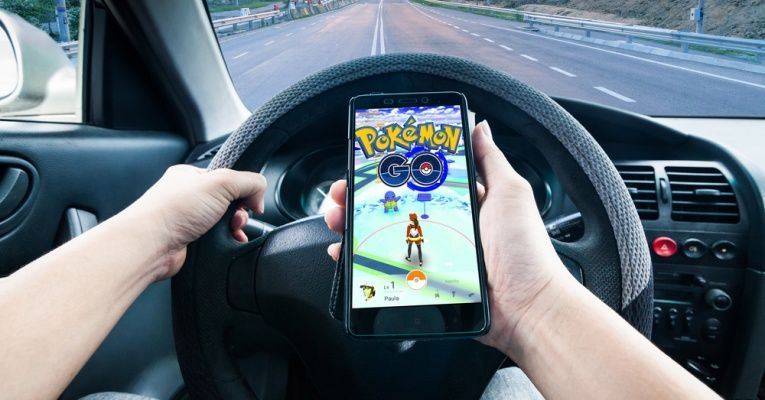 In June, an app came out that has captivated millions- Pokemon Go. If you've been out in public lately, you may notice a higher number of people walking while looking at their phones, this could be why! This game is played on cell phones, and you can collect Pokemon characters, battle your friends and much more. The game has "PokéStops" which are found based on your cell phone's location. These stops are meant to be walked through, however, many people have admitted to driving through them. There have been many accidents reported while playing the game, as it adds to the already extensive list of distractions while driving.
The game does require you to travel at slower speeds through these checkpoints, but that doesn't stop people from driving while playing. This adds another facet to distracted driving. Not only are players slowing down to potentially dangerously slow speeds on busy roads, they also have to engage with their app while doing so.
Distracted driving is an issue no matter where you live- Chattanooga included. The next time you're going through the ridge cut, as tempting as it may be, please put down your phone and focus. Federal officials estimate that distracted driving contributes to approximately 16% of all fatal accidents. This amounts to about 5,000 deaths per year. Highway fatalities have been declining over the last few decades, due to increased seat belt use, safer automobiles, and campaigns against drunk driving. However, now they're rising again. Most likely due to distracted driving. A study by the AAA Foundation for Traffic Safety found that almost 90% percent of people believe that texting while driving is dangerous. But on the other hand, 42 percent admit to texting while driving within the last month.
It is very difficult for officials to catch those violating the law. Tennessee's Texting While Driving Law (TCA 55-8-199) states that "Texting while driving a vehicle in Tennessee is illegal." Robert Puentes, chief executive of the Eno Center for Transportation stated "It's an enormous problem. About half a million people are killed or injured in accidents attributed to texting and driving." Those numbers are quite alarming! We urge all Chattanoogans to drive distraction free, even though there's yet another distraction available!
Remember that accidents happen in the blink of an eye. No one is immune to them, we are human and we make errors. But don't add any additional reasons to potentially have an accident.
Traveling by cars isn't the only way people are being injured while playing the game. There are reports of teenagers being hit by cars while crossing highways on foot to hunt down the next PokéStop.
"It's unfortunate to have to say these things," said U.S. Department of Transportation Secretary Anthony Foxx, as he began a speech at a cybersecurity conference in Detroit, but "people who are driving and using this app, and in some cases, even (while) walking, can endanger themselves. "Nobody in this country should be using any app, including Pokemon Go, while driving," Foxx added.
If you were injured in a car accident while someone was playing Pokemon Go, Johnson and Lundgreen have a great list of do's and dont's to follow after any car accident. Click here to learn the next steps and make sure to work with a Chattanooga attorney. Not some one from out of state! Stay safe, Chattanooga!