Chattanooga Car Accident Lawyers
Helping You Obtain a Fair Settlement for Your Recovery
A car accident can devastate your life and the lives of your loved ones. When you have been seriously hurt, you need Chattanooga car accident lawyer who will fight for your maximum recovery so that you can concentrate on healing from your injuries. At Conner & Roberts, PLLC, our personal injury team is committed to helping you understand your rights and obtaining the maximum compensation for any physical, financial, and emotional damages you have suffered.
Schedule a free consultation with Conner & Roberts, PLLC today. Call (423) 299-4489 or contact our firm online.
What To Do After a Car Accident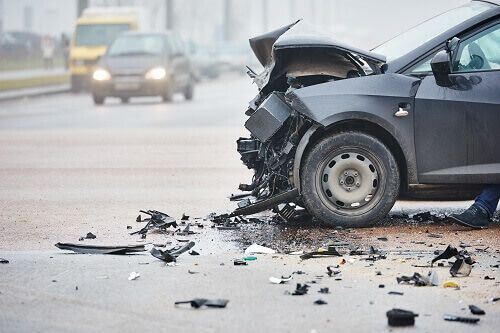 ​When you have been involved in an accident, Chattanooga car accident attorneys Amelia Roberts and Lisa Conner urge you to:
Get medical help as soon as possible. If you have been injured, it is crucial to receive medical treatment to maximize your chances of a swift and full recovery and to minimize legal consequences. Even if you are unsure if you were hurt, it is important to accept emergency care after the accident or quickly make an appointment with your doctor to get examined. Often, individuals suffer latent injuries that don't surface for days or even weeks after an accident. By receiving a medical examination or treatment, you can prove your injuries resulted from the accident in your claim.
Seek the counsel of a qualified injury attorney. The sooner you contact an experienced professional who understands how to effectively represent accident victims, the sooner you will be protected. The attorneys at Conner & Roberts, PLLC, collaborate with investigators who will go to the scene of the accident to collect evidence that will strengthen your case.
Exchange information. Make sure to collect the names, contact information and insurance information from all the parties that were involved in your accident. This information is important when filing your claim.
Collect evidence of the accident and your injuries. Take notes, photos, videos and collect any other type of evidence that can illustrate the events of the accident and the damages to your property and to yourself.
Let your attorney speak to your insurance company. Often, insurance adjusters will try and settle a claim with an injured individual for much less than he or she should be entitled to in an accident claim. They will also try to record your telephone conversation and try to get you to say things unfavorable to your case. Our lawyers will not let this happen. We are prepared to pursue full, fair compensation for your damages, and we will work with the insurance companies to ensure they do not take advantage of our clients.
Document lost wages. Documenting the time that you have missed work because of your injuries — including sick days, vacation days and other personal leave balances — is another way to prove how your injury has directly affected your life.
Aggressively Fighting for Your Rights
With nearly 40 years of combined legal experience, Attorneys Amelia Roberts and Lisa Conner understand the legal obstacles you may be facing if you have been hurt in an accident along U.S. Highway 64, Interstate 75, 24, or any other Tennessee roadway.
Conner & Roberts, PLLC, has successfully represented our clients in several types of car wreck cases involving:
Head-on collisions
Rear-end collisions
Side-impact collisions (T-bone accidents)
Rollovers
Multiple car pileups
Alcohol-related accidents
Building a Strong Case
It is important to uncover the cause of the accident and demonstrate the fault of the other party. As your advocates, we will work with industry experts such as accident reconstructionists, investigators, and medical professionals to gather evidence that supports your case. In cases of intentional or reckless conduct such as DUI or distracted driving, we will fight for punitive damages in addition to compensation for your medical bills and pain and suffering.
If we cannot reach a fair negotiated settlement, we will aggressively litigate your case in court so that you obtain the full compensation for your losses. We have achieved favorable results in both state and federal courts.
While no amount of financial compensation can erase the event that caused you or your loved one trauma, it can help lift the financial burden of the associated medical expenses and other damages you have suffered.
Let Conner & Roberts, PLLC, help you obtain the results you need in your auto accident case. Call (423) 299-4489 today.
You need a team like Conner and Roberts

Shanna S.

"I would highly recommend Lisa Conner and her team to anyone that is going through a divorce. If your marriage was a mistake, I promise hiring her won't be."

Diane K.

Most importantly, great at communicating and keeping me up to date!

Carla W.
Meet Our Attorneys
Serving Clients for Nearly Four Decades
Free Case Evaluation

To ensure that we are the right fit for your case our firm offers a free initial case evaluation.

Personalized Approach

No two cases are the same;  we ensure that each resolution is structured specifically to fit your goals.

Highly Experienced Attorneys

Our attorneys have nearly 4 decades of combined experience, helping clients find peace of mind.

Work Directly with an Attorney

When you work with our firm you will have direct access to your attorney every step of the way.
Your Next Chapter Starts Here
(423) 299-4489