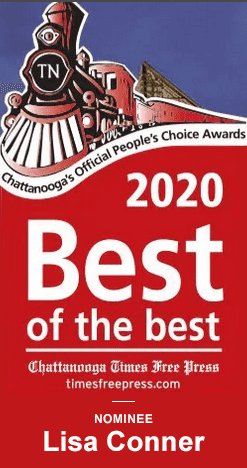 Every year, The Chattanooga Times Free Press, thenewspaper hosts an annual Best of the Best People's Choice Awards to award local individuals and businesses for being the "best of the best" in their industry. Conner & Roberts, PLLC is proud to announce that our Co-Founder and Attorney, Lisa Conner, was just named one of the top three finalists in the divorce attorney category. The winner will be revealed Sept. 27, 2020.
Attorney Lisa Conner co-founded Conner & Roberts, PLLC with Attorney Amelia Roberts in September 2010 and is the firm's managing partner. She focuses on family law, divorce, workers' compensation, and personal injury cases.
The Chattanooga Times Free Press, a staple in the Chattanooga community for over 150 years, has received acclaim within the community and across the nation. The newspaper is the recipient of multiple Pulitzer Prizes and is Chattanooga's prized possession as their only daily newspaper. We are thrilled that one of our very own has been recognized by such a prestigious local organization.
People's Choice Awards Best of the Best Categories
With the slogan, "the best choices in Chattanooga, all in one place," the newspaper's choice awards has been a favorite issue for residents of Chattanooga for years. The newspaper is currently celebrating its soon-to-be 13th edition in September when the final People's Choice award results will be announced.
The Best of the Best Voting Process
To vote for the Best of the Best People's Choice awards one must be at least 18 years old and a legal, United States resident of Tennessee, Georgia, or Alabama. A legal resident is granted one valid vote per category per email address. No purchases are necessary to vote. Contest entrants must abide by the terms set by the contest commissioners and the contest is not allowed to be used for gambling purposes. Voting for this year's edition is currently closed.
Committed to Our Chattanooga Community Since 2010
It brings us immense joy to support our community here at Conner & Roberts, PLLC. The Best of the Best finalist nomination for best divorce attorney lets us know we are making a difference in our clients' lives, which has been something we have been committed to as a law firm from the very beginning when we first started our firm.
If you need assistance with a legal matter, feel free to contact us online or get ahold of us via (423) 299-4489. We offer free consultations for your convenience.